Due to Covid-19 shipping delays may occur.
Everything you need to expand your virtual classroom. Built-in LED light eliminates shadows. Weighted base keeps large tablets steady for sturdy operation. Large faceplate accommodates both phone or tablet devices. Sleek, minimalist design adds a professional yet functional style.
Specifications
Height: 15in tall, Base: 8.5in deep x 10in wide, Weight: 5.6lbs
Compatible Devices:
iPad, iPad Pro, Android Phones, Tablets 12.9" or smaller (Samsung Galaxy Tablet, Amazon Fire, LG, Huawei, Lenovo Tab, Huawei. Must have camera and front-facing camera), iPhone, Windows Phone
It is most useful when introducing a new concept or piece of band music. We have to count out the rhythms and write in the counts. I am finally able to demonstrate along with the students rather than just hold a piece of paper up to the screen. So, yes, super, super helpful. I really appreciate having this tool." -Andria Mullen, Piedmont High School, California. School Band Leader.
It has been a game changer for me. It is so simple to use and easy to transport. It does just what I need it to do. This was the one thing that was missing from my instruction. We (my students and I) would all like to say, "Thank You", again! The TutorCam has definitely helped to improve teaching and learning for my students and I!"- Rochelle Jamison, Southeastern High School, Detroit. Math Teacher
"Since using the TutorCam, the class feels more like I am in person. It has been a great addition. Thank you so much!!" -

Vicki Carow, Pfluger Elementary, Texas. Specializes in Teaching Students with Dyslexia.
It's such a useful tool. I've been able to use it during my small group sessions!! Again, thank you so much!!" - Tonyetta Easley, Kendezi Old Fourth Ward, Georgia. Fifth Grade Full Inclusion Classroom.
"I am always on the hunt for something new that can solve a problem. Problem solving is something that I teach as a part of STEM integrations that I hopefully can return to when we have in-person instruction and COVID restrictions are lifted. When I spotted your innovative product, I could not believe how it really solved the issue of holding an iPad while instructing." -

Tricia Louis, Richland School District, Wisconsin. Integration Specialist.
The students have remarked on how they can see what I am doing better/more clearly. It also helps me to see their positioning and allows me to correct their grip to be safer and more effective." - M'Lisa Kelley, Piedmont Unified School District, California. Director of Nutrition & Chief Culinary Instructor.
Thank you so much for the TutorCam Go. It has been very helpful with on-line teaching. Pros: Easy to set up. Affordable price. Simplicity of the cam. Durable. Not heavy." - Kathy Duong, Anne Sullivan Elementary School, Texas. Reading Interventionist.
This custom designed lens redirects the camera angle and flips the image in its correct orientation.
A rechargeable LED light ensures no shadows on your paper. The light bar also offers soft light for face to face video.
The TutorCam PRO is weighted to support both phones or tablets. It also has a larger face plate to accommodate both.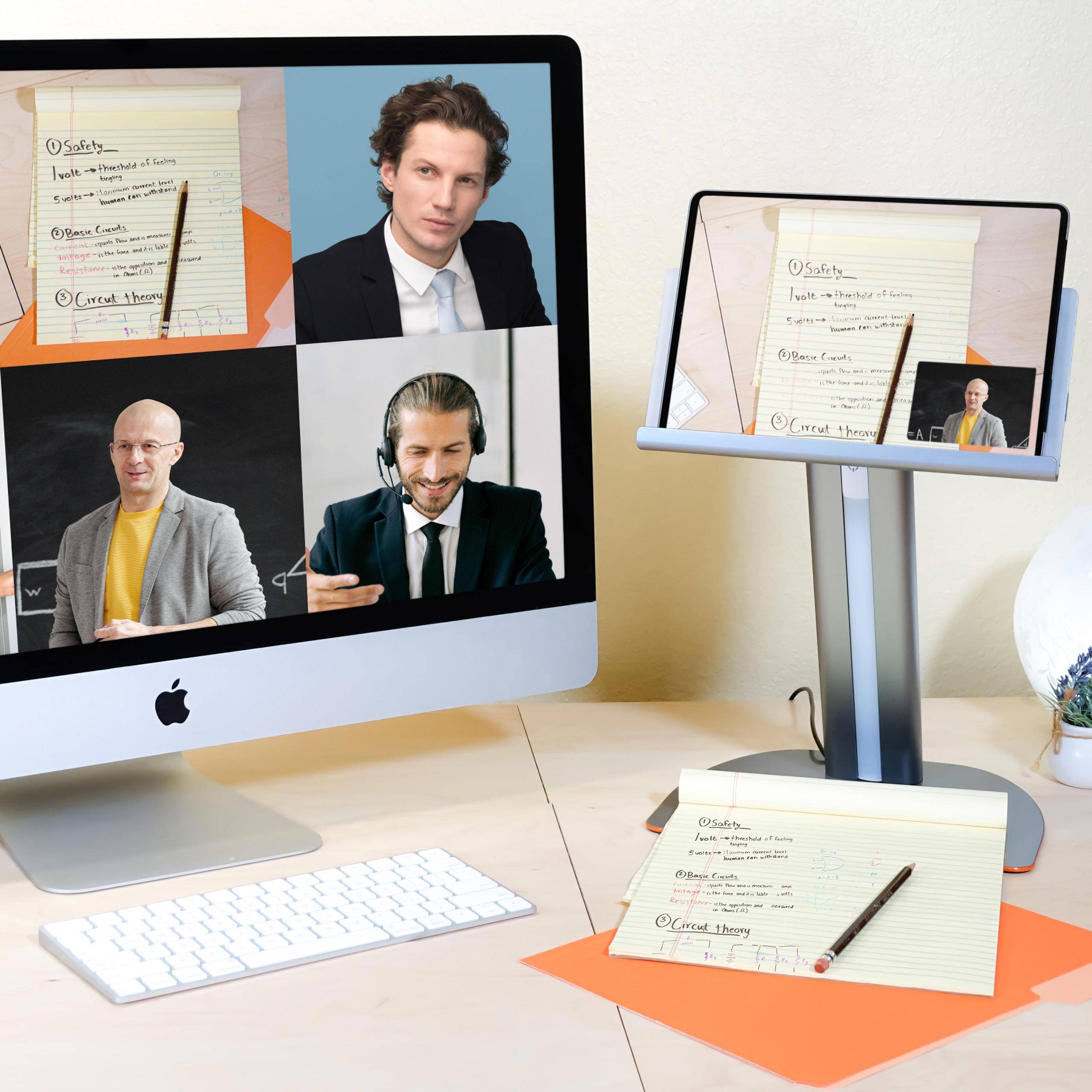 25 Ways To Use Your TutorCam
School / College / Tutors
Work Meetings
Telemedicine
Sports coaches
Knitting Classes
Nail Artists
Speech Pathologists
Lawyers / Accountants
Video Calls With Granny
Art / Drawing
Dungeons & Dragons
Youtube Chefs
Fashion Designers
Twitch Gamer
Drama Coach
Religious Leaders
Stamp Trading
Play Dates
Interior Decorators
Jewelers
Music Teacher
Online Magicians
Scrapbooking
Writing Parties
Youtube Demonstrations