Due to Covid-19 shipping delays may occur.
Perfect for anyone on the go. Lightweight and easy to use. Designed for mobile phones or mini tablets. Adjustable height to accommodate work at the kitchen table or even online piano lessons. Folds flat and fits in a backpack.
Specifications
Height: 12in tall
Base: 8in deep x 7.25in wide
Weight: 1.7lbs
Same great Tutor Cam crystal lens, provides the perfect angle and clarity.
Save space and keep your TutorC am out of the way when not in use. The Go folds flat and fits in a drawer.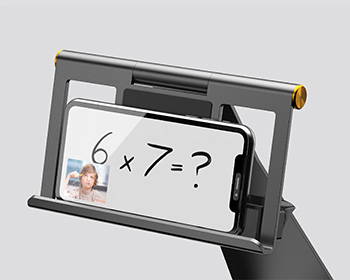 Do you love the TutorCam, but wish everyone had one? We designed the Go for the masses. Let's get everyone learning.